What are the requirements to stream in UHD?
An internet connection with a steady bandwidth of at least 25 Mbit/s.
Preferably a wired internet connection rather than Wifi to ensure the best connection
One UHD compatible device:

Swisscom UHD TV box or AppleTV 4th generation connected to a UHD TV,
UHD LG SmartTV,
UHD Sony or Philips SmartTV equiped witht the last Android TV version.
What programmes are available in UHD on Sky Sport?
Each event that is streamed in UHD is highlighted as "UHD" on our platform, as in the example below: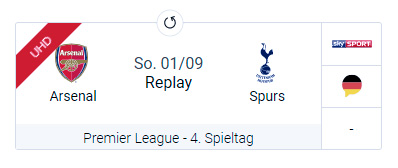 We offer one Bundesliga match and one Premiere League match per day in UHD, but not only...
What is the difference between UHD and 4K?
UHD (ultra-HD) has a resolution four times higher than HD: a maximum of 3840x2160 pixels.
4K is a technology similar to UHD.